Ok....this is the "edge" part. This is a vegetarian dish that is not a vegan dish...so if you just sub. a vegan cheese for the parmigiano reggiano that I've used here, you'll have a nice, vegan dish.
Years ago, I used to go to a restaurant called, "The Rammekin" (and I hope I've spelled that correctly...) where all entrees were served in individual dishes. I always enjoyed that concept, so that is what I used for this dish.
I've been experimenting with quinoa pastas lately. They handle differently than gluten-containing pastas and have totally different properties so can be a little tricky in that they require far less cooking time. The textures are sublime and they have the added benefits of being high in protein and, as mentioned, gluten free so you can fill up on them without getting that post-pasta drowsy sensation. The down side is that I usually make pasta from scratch and I don't have a clue about how to make this one, nor can I find a ready-made fresh one anywhere... so I used a dried red bell pepper and spinach one.
This is a dish I made that has chanterelles, shitakis and criminies combined with the best parmigiano reggiano I could find, veggie/vegan meat, onions, fresh basil, fresh garlic, telicherry pepper - which I prefer more for its' aromatic contributions than for the fire. (It is very mild, but smells heavenly!) and sel gris (gray salt) which is a nice, mineral-laden cooking salt from France that you can pick up at any gourmet cooking shop such as Sur la Table or, I think Trader Joe's is carrying it now. I am way into the salts these days..finishing salts...dessert salts...etc...sel gris is a great all-purpose one that has a nice, earthy under taste.
Ok...so let's begin. Shall we?
I preheated the oven to 350 F. and brought some salted, olive-oiled water to a boil. Then I prepared the pasta curls: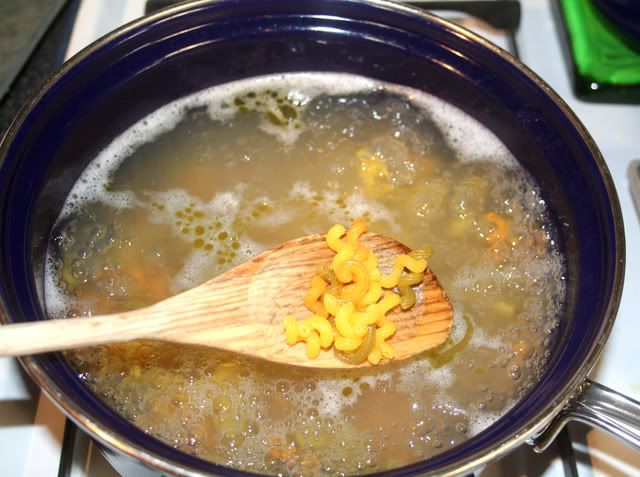 I used my mortar and pestle to prepare the pepper and sel gris. I prefer this method to a grinder because I can actually see the size of the grains and process them exactly as I want. (This is a very large, heavy duty m&p that I picked up from Sundance. I couldn't live without it!) :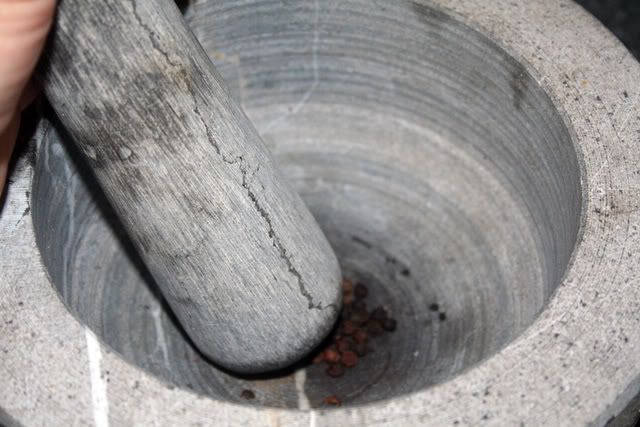 I worked in the restaurant business for many years and pride myself on being able to thinly slice shrooms at the speed of sound. ;-) Unfortunately, due to the size, textures and shapes of this particular mushroom trio, I opted to cut them into thick chunks. Here we have the chanterelle, shitaki and criminie delights, each with a distinct flavor, texture and appearance: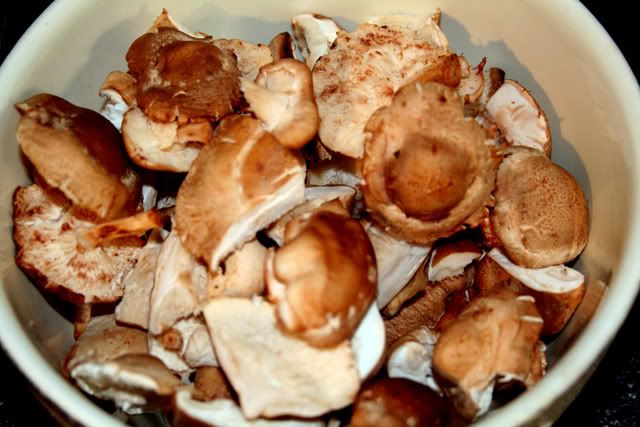 I cooked the mushrooms in olive oil just slightly...maybe 2-3 minutes tops, so they had begun to soften.
Then I cooked a small white onion (chopped) until clear, with 3 cloves of fresh garlic and some finely chopped fresh basil...about 1/3 C. I added the veggie meat to this. If you choose to use veg meat, the cooking time is far, far less than actual animal product, so watch it closely: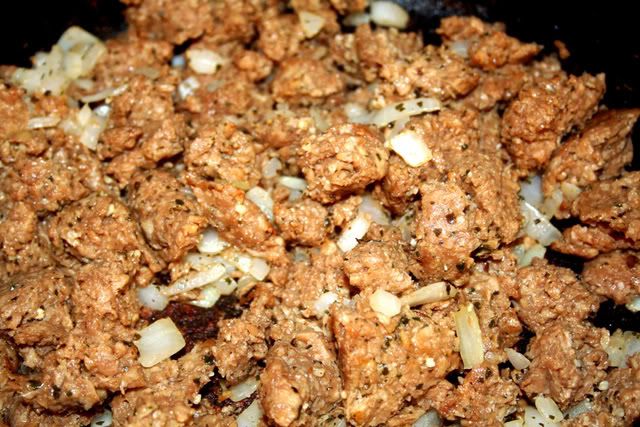 One can use any sauce of preference. I used a homemade one with chanterelles simmered throughout & processed finely. Turned out to be the perfect choice with this particular selection of ingredients. I began assembly of this dish by adding sauce to the bottom of the rammekin.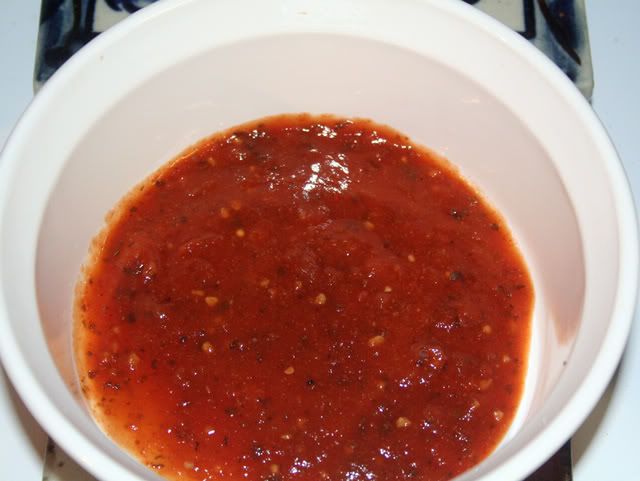 Then I layered the other ingredients adding a nice, aged parmigiano reggiano between layers.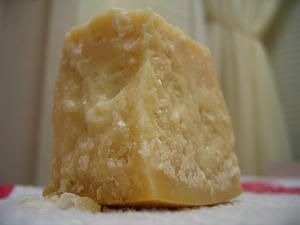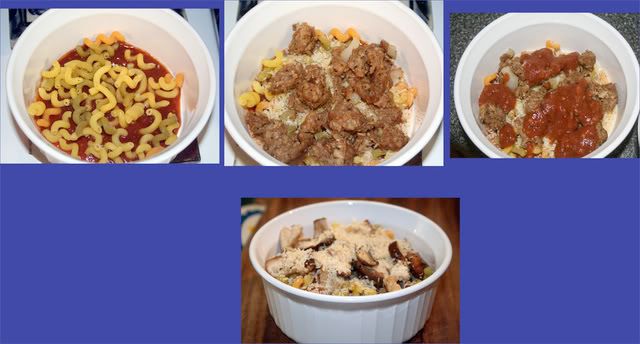 Just prior to adding the top layer of cheese, I added just a whisper of a nice white wine. This is a French chardonnay, but you can use whatever you prefer: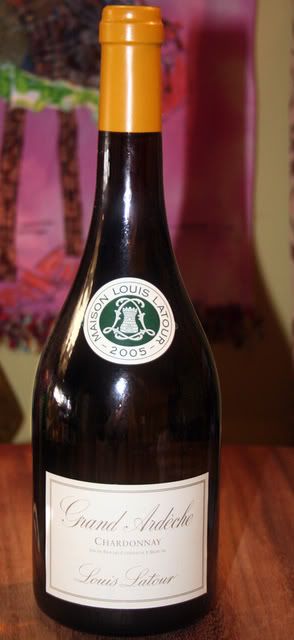 Since the ingredients were pretty much pre-cooked, I just sprinkled cheese over the top, covered each rammekin with foil and popped it into the oven for around 20 min. to allow the wine to steam up through the layers and for the cheese to melt. When it began to bubble and sing, I removed it from the oven and served it with a nice, cold citrus salad with mixed lettuces and pomegranate. I forgot to photograph the salad so am using a pic that I nabbed from the net. Mine looked pretty much like this with more greens: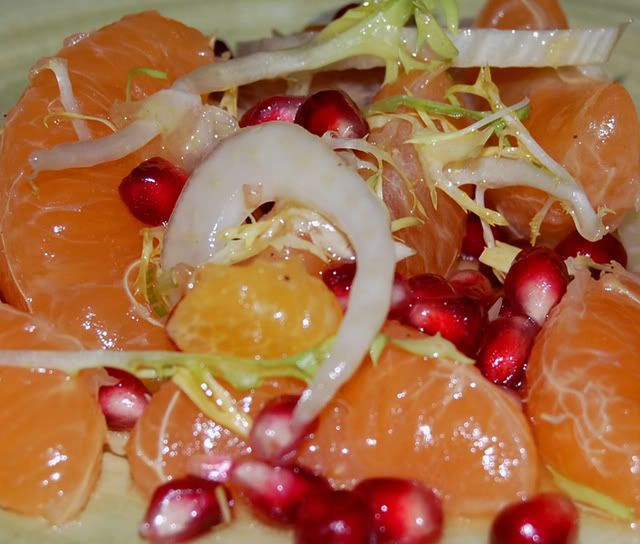 It was a good meal...the hot, bubbly individual casseroles contrasted with the cool salad. We had some nice green beans almondine with this as well. Good stuff.